B L O G M A S  D A Y 20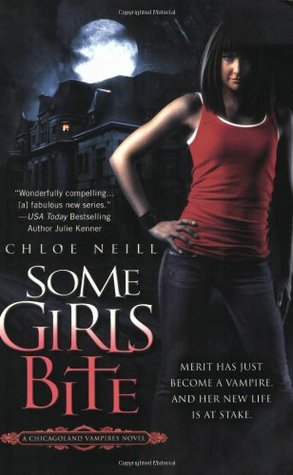 This is the book series that took my coworkers and I by storm for some odd reason this year!
I started it because I was craving a fast paranormal series and was asking my coworker for suggestions. She suggested this and paired with knowing my other coworker really likes this author I was like heck yea! Now that you have the back story that you probably don't care about as to why I started to read this…
So Some Girls Bite is set in modern day Chicagoland area in a world where people know vampires exist and they kind of live together peacefully. Of course there is going to be TENSION because vampires need blood to survive and all, but for the most part everyone has their shit together and while the peace dynamics are on shaky ground, they are somewhat stabilized.
Now enter Merit, our main character. She's living with her roommate happily going about life, whennnnn she is turned into a vampire. Without her permission. This is a big deal, because in this society you NEED a human's permission to turn them, plus, Merit comes from a pretty fancy-pants family (however, she is not on good terms with them).
From there she is quickly introduced to the world of vampirism and all of the facets she never paid much attention to. As she is sinking into this world, there is still the mystery as to who turned her, as well as why she is… a little bit different than the other vampires.
It's that difference that made me really like the series and also drove me a little bit nuts in the book. Because she is a little bit *too* special, you know? But it makes for an interesting story PLUS there is one facet about her that I'm REALLY curious about, that I don't want to go into.
The series is a little bit sexy and a lot of fun and very much a good escapism read. At least this book! I'm not going to lie, I haven't progressed much further into the rest of the series yet.
So if you're looking for a good vampire series book to TAKE YOU AWAYYYYYYY try Some Girls Bite!