B L O G M A S  D A Y  13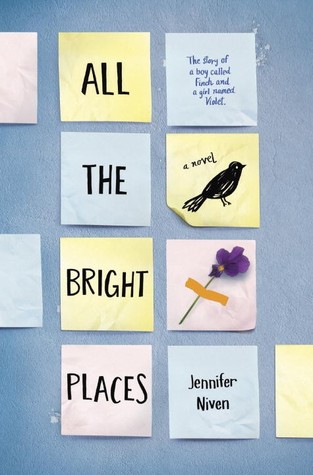 Today we are talking about All the Bright Places by Jennifer Niven. You know how after John Green got SUPER popular suddenly every book that was young adult and contemporary had a little statement claiming it was EXACTLY LIKE BOOKS BY JOHN GREEN?
Well good news! I've heard little blurbs talking about THIS book saying if you like books by John Green you would like this, and I think that is SUPER accurate.
And I'm trying to figure out what it is about this one that seems like that is a very true statement. Because yes, in All the Bright Places you have two very smart seemingly very different from each other teens start becoming friends (and possibly more-ooh-la-la). You also have tragic stories mixed with humor.
On the surface all of those ring true, but that rings true for a lot of books that I wouldn't say capture the same feeling and voice. Niven's book speaks to that same feeling and voice though. It is of course completely its own story….
[SUMMARY TIME.
Finch is notorious for his weirdness and how different he is. Violet is notorious for her popularity. They are on polar opposites of the social structure, yet somehow they both end up on the roof of the school at the same time with possibly a similar idea… the book is told in alternating view points as they navigate their histories, trying to live in the present, and the possibility of a future.]
So even though the core of the story is definitely different, what Niven seems to do similarly is to put to words the yearning and emotion in life when you're feeling stuck physically and emotionally that Green also seems to do. It's idealistic in certain ways, yet grounded in harsh realities.
I will say, similarly with The Fault in our Stars there is an interesting tension between the lightness of the book with the seriousness of some of the situations being discussed.
Is it fair to spend so much time comparing one author to another? Probably not. But I think that was my strongest review reaction– especially because is has attained a similarity that a lot of marketing people seem to be striving for.
So if you're looking for something that simultaneously somehow draws from your happy and giddy emotional pool and your my heart is breaking emotional pool, add All the Bright Places to your to-read list!
Heads up though- the book does discuss suicide a lot.