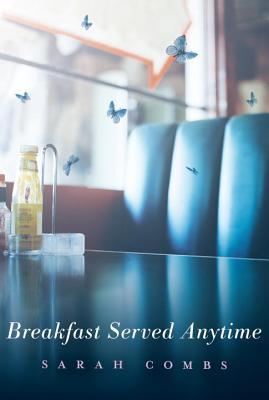 Breakfast Served Anytime
by Sarah Combs
Published April 2014
When Gloria sets out to spend the summer before her senior year at a camp for gifted and talented students, she doesn't know quite what to expect. Fresh from the heartache of losing her grandmother and missing her best friend, Gloria resolves to make the best of her new circumstances. But some things are proving to be more challenging than she expected. Like the series of mysterious clues left by a certain Professor X before he even shows up to teach his class, Secrets of the Written Word. Or the very sweet, but very conservative, roommate whose coal-industry family champions mountaintop removal. Not to mention the obnoxious Mason, who dresses like the Mad Hatter and immediately gets on Gloria's nerves — but somehow won't escape her thoughts.

Summary and photo from Goodreads.com

This is one of those titles that really show me the power of blogging and sharing books. Wayyy back in April I read GRead's post raving about Breakfast Served Anytime and since then this book has been sitting on my mental "READ THIS ASAP" list. FINALLY, I did.
And I'm really glad.
Breakfast Served Anytime is seriously one big emotional treat. Soon to be senior Gloria is at Geek camp for the summer and is at the cusp of trying to figure out where to go next in life. Should she go to New York with her best friend and try to become an actress as they had originally planned? Or should she stay in boring old Kentucky because she will be getting a really good scholarship? And of course, just because you have your eyes on the future doesn't mean every day life stops. There are still infuriating boys to deal with, surprising friendships, and  trying to figure out your stance on the world.
This book largely exists in Gloria's head, and as a result, I feel like it is a ball of EMOTION. She is gloriously sentimental and nostalgic. I think that is what stuck out to me the most, especially as an adult reading this. There are times when she seems to love the moment she is in so much, that she starts to fret about when it will be over. I get that. I really, really get that.
And that is pretty much the sum of my experience reading Breakfast Served Anytime. I kept saying, "I understand. I get that." It's one of those books that is very unique in some ways, and because of that it I can see this as very divisive emotionally. It's either "I get that!" or "What the heck is she on about?"
Bonus: There is something really enjoyable about reading about someone that isn't afraid to love things. Gloria loves things passionately and shares that love. She loves her dad, she loves the anticipation before things, she loves reading, she loves To Kill a Mockingbird, she loves music, and so many other things. One of my favorite quotes about reading:
"I guess what I'm trying to say is that sometimes you can love a book not so much because of what it's about or what happens in it, but because it belongs to a certain time or person in your life- like you'll always remember where you were when you read it for the first time, or who gave it to you, or what season it was, or who you were before you read it and how you were different when it was over."
So for those looking for a quieter book about interacting with the world and change and growing up or for those looking for a young adult novel that strongly stands on its own, you should check out Breakfast Served Anytime.
Add it to your TBR list on Goodreads