B L O G M A S  D A Y   10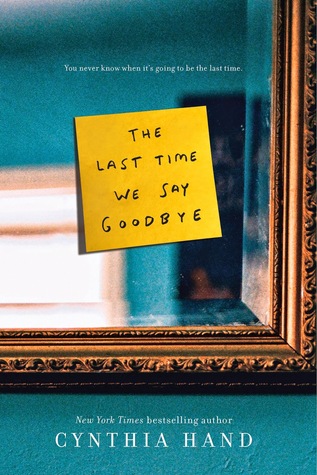 The Last Time We Say Goodbye by Cynthia Hand
Summary:
There's death all around us.
We just don't pay attention.
Until we do.
The last time Lex was happy, it was before. When she had a family that was whole. A boyfriend she loved. Friends who didn't look at her like she might break down at any moment.
Now she's just the girl whose brother killed himself. And it feels like that's all she'll ever be.
As Lex starts to put her life back together, she tries to block out what happened the night Tyler died. But there's a secret she hasn't told anyone-a text Tyler sent, that could have changed everything.
Lex's brother is gone. But Lex is about to discover that a ghost doesn't have to be real to keep you from moving on.
—
I usually am very particular about angels and paranormal romance in my reading, but Cynthia Hand's Unearthly series completely won me over. Her ability to tell a story that I am really picky about and win me over so quickly has put her newest book The Last Time We Say Goodbye immediately on my to-read list. This soon to be released novel has nothing to do with her previous series and looks to be more contemporary rather than paranormal.
This sounds terribly depressing, and based on a few of the reviews people have already written it sounds like Hand delivers that grief. Plus, what the heck is that text message referenced in the summary? Basically? I can't wait!
The Last Time We Say Goodbye comes out February 10, 2015. Add it to your tbr shelf on Goodreads!