B L O G M A S  D A Y  6
Starting tomorrow, Librarians will be using #Libfaves15 on Twitter to share their top 10 favorite books they read that were published in 2015, posting one a day. I want to join in too, so I have started reviewing my year in reading. I stumbled upon a book I loved, but can't include because it was published earlier. So instead I'm going to share it here. It was Americanah by Chimamanda Ngozi Adichie.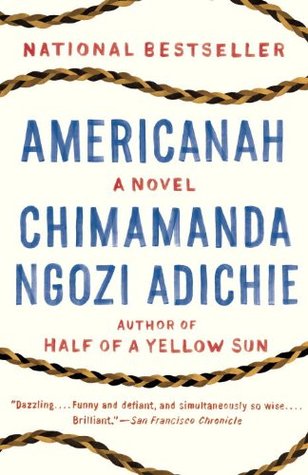 It's this absorbing modern day coming -of-age novel following Ifemelu, a young woman born in Nigeria. It starts when she's a teenager. She falls in love she starts coming into her own– and then she ends up moving to America to attend school. She's broke and is suddenly immersed in this country so different than what she is used to. She's away from most of her family, the love of her life, and her friends. Through the process of acclimating to a new country, Ifemelu undergoes a massive amount of hardships, but she still somehow maintains her persistence, humor, and awareness.
The things I liked the most were-
the details in Ifemelu's life in Nigeria and her life in America. It is an immersive book that brings her experiences to life.
How much of a tangible character Ifemelu is. She's this 3-dimensional person that lives and breathes outside of the pages. I don't even know how Adichie did it– what makes a character real and what makes a character seem less real? I don't know. But this to me is an example of a character built with her own nature, yet placed in a setting so strongly built that she is also molded by her nurture.
Her perspective. Reading about her experience living in America and being aware of the color of her skin for the first time was powerful. She is a character aware of her surroundings and isn't afraid to add her own commentary and musings on them.
It also jumps to Obinze as the narrator– the boy she fell in love with as a teenager. As a character he too was insightful and interesting, and I looked forward to reading from his perspective. Their love story is also
My only hesitation, is I feel like it just ended a little too perfectly, quickly, and easily. It's nice because there is resolution to this– I am so happy that we got that. However, one of my favorite parts of the novel was it was a meandering exploration of the growth of these two characters… and then suddenly everything went full speed ahead. Personally, it drew me out a little bit– but not enough to not consider this as one of my general favorites of the year.
Also, I don't know what it is about this book, but I even remember the exact weekend I was reading it. It was hot and during the summer and we weren't turning our air on and I just remember reading this non. stop. To the point that I would bring it with me anywhere I went and if I had to wait for like more than one minute, I would pick it up and start reading it (except when I was driving ;]).
It's funny how a reading experience can be so consuming, that it can just stick in your head like that and you remember the how and when and emotion of the reading experience even more than what you actually read.
So for the next ten days keep an eye out on twitter for all of the favorites published this year! I'll make sure to either do a master post of all of my favorites later on, or scatter them throughout Blogmas.
See you tomorrow–