B L O G M A S  D A Y   19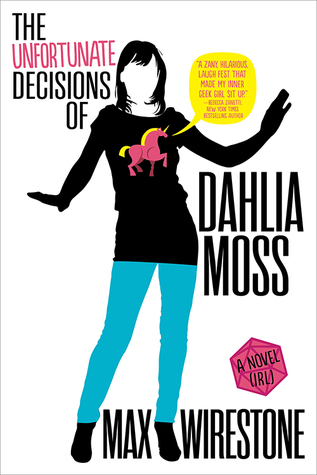 I would classify The Unfortunate Decisions of Dahlia as just plain and simple fun. It's set in St. Louis (hurray Midwest!) and is about a girl who doesn't really have her life together given a mission to solve a mystery. Why is she chosen out of all of the real life detectives and non-detectives of the world? Dahlia isn't really sure. But she's getting paid, so she'll take it!
This is a pretty straight forward mystery as she starts with trying to solve the first issue (who stole a super-powered sword in the online game Zoth?), which eventually leads down a very tangled mess that involves MURDER. Dun dun dunnnnnnnn
What's unique to this book is all of the gaming references. Because it deals with a mystery that deals inside of the virtual game as well as bleeds out into the physical realm, some of the story also takes place in the game which is neat. Also you get the fun and interesting tension of how the characters in the book do or don't overlap with the characters they play in their game. In that aspect, there is a little bit of similarity with The Guild where you explore the group dynamics.
On top of the mystery, there is a little bit of romance thrown in, plus super strange characters that you aren't sure are strange because that's who they are or if it's because they have SECRETS!
So if you like mysteries that are a little bit more cozier, like millennial characters, and/or are interested in online gaming… The Unfortunate Decisions of Dahlia Moss might be for you!